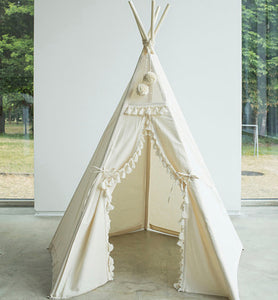 teepee tent - Boho ☮︎ || tenda tipi - Boho ☮︎
Regular price || Preço normal €0,00 Sale || Promoção
The perfect setting for events or for your next vacations > Bohemian style. || O cenário perfeito para eventos ou para as suas próximas férias > Estilo Boho.

comes with a strong support framework || estrutura rígida de suporte

smooth round wooden vertical and horizontal supporting poles || varas de madeira, redondas e lisas, para suporte vertical e horizontal

matching rope with a big pompom at each end || adornada com borlas e dois pompons para decorar o topo da tenda
Material:
100% cotton: OEKO-TEX® Standard certified to be free from harmful chemicals || 100% algodão (norma OEKO

-TEX®)

poles are made from eco-friendly aspen wood for ultimate look and quality || as varas são de madeira de choupo, leve e resistente, elaborados de forma natural e ecológica para obter a melhor aparência e qualidade.
Extras: || Extras:

Dimensions: || Dimensões:
Poles height 180 cm || Altura 180 cm

Entrance height 90 cm || Altura de entrada 90 cm
Inside diameter 100 cm || Diâmetro interno 120 cm
[also available in XXL - 170 x 200 cm]
Teepee color: off-white, beige.  || Cor: cru, não branqueado
*Product color may slightly vary due to photographic lighting sources or your monitor settings || *A cor do produto pode variar ligeiramente devido às fontes de iluminação fotográfica ou às configurações do seu monitor. 
Corporate | Get in touch with us to create the perfect kids corner. || Entre em contacto connosco para criarmos o kids corner perfeito.