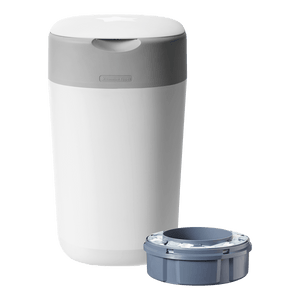 Tommee Tippee diaper container || caixinha para fraldas Tommee Tippee
Regular price || Preço normal €8,75 Sale || Promoção
refills are currently out of stock. if you're looking for this product with refill please let us know and we'll inform if we are able to find it for you.
This accessory is ideal for hotel rooms or when sharing a house with family or friends. || Um acessório ideal para quartos de hotel ou para quando partilha a casa com família ou amigos. 
This Tommee Tippee diaper pail has a twist and lock system - a twist closure system that individually seals each diaper and isolates them in an antibacterial film. || Esta caixa para fraldas da Tommee Tippee tem um sistema twist and lock - um sistema de fecho que fecha individualmente cada fralda isolando-as numa película antibacteriana.