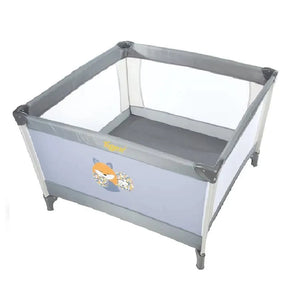 playpen || parque
Regular price || Preço normal €22,80 Sale || Promoção
This play pen is an excellent solution for having inside home either to play or to rest, while offering parents security. || Este parque é uma excelente solução que acolhe o seu bebé dentro de casa tanto nos momentos de brincadeira como nos de tranquilidade, oferecendo também segurança aos pais.
one side of the playard can be opened to allow that baby to in and out || um dos lados da rede pode abrir-se para permitir ao bebé entrar e sair
4 handles that allows baby to grab || 4 alças que permite ao bebé agarrar-se
100x100cm
Suitable from 0m+. || A partir dos 0m+.