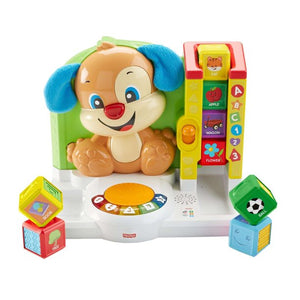 Fisher-Price laugh & learn First Words (portuguese) || cãozinho primeiras palavras Fischer-Price
Regular price || Preço normal €12,50 Sale || Promoção
Toy with songs, phrases, sounds and practical activities adapted to the child's age and development stage. || Brinquedo com canções, frases, sons e atividades práticas que se adapta à idade da criança e etapa de desenvolvimento.
8 first word blocks to swipe across puppy's "magical" reader which activate fun songs, sounds and phrases about each object shown || 8 blocos para deslizar no leitor "mágico" do cão que ativa músicas, sons e frases sobre cada bloco mostrado

5 light-up buttons teach colors, shapes and counting || 5 botões que se iluminam e ensinam cores, formas e números

push puppy's nose for fun lights & music || o nariz do cão, ao ser carregado, mostra luzes e músicas divertidas

3 smart stages levels keep the learning fun going as your child grows || 3 níveis distintos

blocks teach about objects, food, animals and more. || os blocos ensinam sobre objetos, comida, animais e muito mais
From 9 months to 36 months. || Dos 9 aos 36 meses.