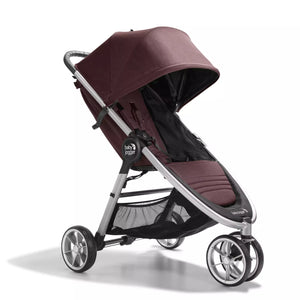 Baby Jogger City Mini 2 3-wheels stroller || carrinho de passeio 3 rodas Baby Jogger City Mini 2
Regular price || Preço normal €55,35 Sale || Promoção
Check our latest blog article about stroller rental in Lisbon here.

Yes, you're ready for Lisbon! 
Baby Jogger's signature one-hand fold with auto-lock ensures easy transportation and storage || fecho rápido com uma só mão e com travão de segurança facilita o transporte e o armazenamento
the near-flat seat recline and adjustable calf support provide maximum comfort so your child can stretch out and relax || reclinação quase plana do assento e apoio ajustável de pés
large storage basket holds up to 4.5 kg so you have everything you need within reach || cesto de armazenamento com capacidade de até 4.5 kg 
front wheel suspension and a foot parking brake || suspensão na roda da frente e travão de pé
does not stand alone || não se apoia sozinho quando fechado
full-coverage UV 50+ canopy with a peekaboo window keeps baby shaded while allowing you to easily check in || grande capota com proteção UV50+ que garante uma boa sombra durante os passeios e sestas e tem uma janela no topo que lhe permite ir espreitando o bebé sempre que necessário
Dimensions (closed): 76.5 x 66 x 26.3 cm || Dimensões fechado: 76.5 x 66 x 26.3 cm
Dimensions (open): 66 x 103.5 cm (w x h) || Dimensões aberto: 66 x 103.5 cm
Stroller weight: 9.4 kg || Peso do carrinho: 9.4 kg 

From 0 to 22 kg (48 lbs). || Dos 0 aos 22 kg.